About the EMRP
The European Metrology Research Programme (EMRP) is a metrology-focused European programme of coordinated R&D that facilitates closer integration of national research programmes. The EMRP is jointly supported by the European Commission and the participating countries within the European Association of National Metrology Institutes (EURAMET e.V.). The EMRP will ensure collaboration between National Measurement Institutes, reducing duplication and increasing impact. The overall goal of the EMRP is to accelerate innovation and competitiveness in Europe whilst continuing to provide essential support to underpin the quality of our lives
Background
Mercury in its many chemical forms is highly toxic to human, animal and environmental health. Its ability to accumulate in terrestrial and aquatic biosystems makes it a particularly insidious threat to environmental sustainability. Its long lifetimes and ability to be transported in air over long distances mean that it is ubiquitous to all environmental compartments and is a pollutant of global concern. According to the UNEP document "Mercury, Time to Act" (2013) mercury emissions are increasing.
Whilst legislation is in place to limit human releases, the assessment of the ongoing effect of mercury on humans and the environment is critically dependent on accurate measurements to assess concentrations and trends. This challenge is complicated by the various chemical forms of mercury and its presence in a number of different matrices. Despite this, the measurement infrastructure to provide traceable measurements of forms of mercury that are currently regulated and to underpin advanced analytical techniques to support the next generation of environmental mercury measurement is absent in Europe, and globally.
In order to reduce global environmental pollution and damage to health caused by mercury, a new convention named the "Minamata Convention on Mercury" has been agreed. The global and legally binding Convention was adopted at the UNEP Diplomatic Conference held in October 2013 in Japan.
European Directives are awaiting the arrival of a solid metrological infrastructure providing traceability and reduced uncertainties for mercury measurements to enable the introduction and subsequent enforcement of target values for mercury, and to ensure the reliability and comparability of measurement results, as is the case for similar toxic elements covered by legislation.
To address the needs in terms of reliability of mercury measurements in different environmental compartments, a Joint Research Project (JRP) in the frame of the European Metrology Research Programme (EMRP) has been launched in October 2014.
This JRP (ENV51 – MeTra) aims at putting in place an underpinning traceability framework for the measurement of mercury, in order to ensure the quality, comparability and traceability of measurement results.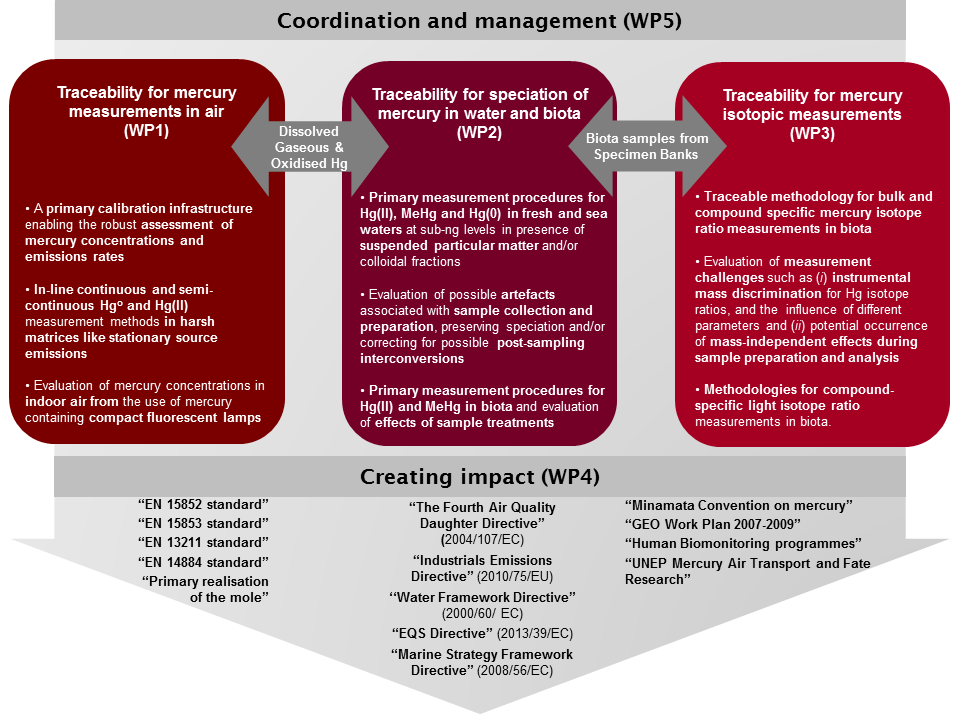 Scientific and technical objectives
This JRP will put in place an underpinning traceability framework for the measurement of mercury in all environmental compartments. This is needed to ensure the quality, comparability and traceability of measurement results.
Specifically the JRP addresses the following scientific and technical objectives:
To develop a calibration infrastructure enabling the traceable assessment of mercury in air to support European legislation for gaseous emissions and air concentrations and as part of the global mercury observing system.
To develop a metrological in-line measurement method and calibration infrastructure enabling the traceable assessment of mercury thresholds specified in European legislation and as part of the global mercury observing system for continuous and semi-continuous Hg(0) and Hg(II) measurement in (harsh) matrices such as stationary source emissions or liquid media, including the use of sensor technology.
To develop a metrological infrastructure for emerging requirements in mercury science such as the evaluation of mercury concentrations in indoor air from the use of mercury containing compact fluorescent lamps.
To develop primary measurement procedures for mercury speciation in water and biota in order to improve mercury monitoring through the aquatic ecosystems and to support European legislation. This will include the evaluation of transformation artefacts associated with sample collection and preparation, in order to minimise species conversion post-sampling.
To develop and accurately perform bulk and compound specific isotope signature measurement methods for bulk Hg and Hg species in biota and accurately perform ratio measurement for light isotopes (e.g. C) in organo-Hg species such as methylmercury in order to detect contaminant transformations and migration.
Expected results and potential impact
This JRP will establish the required metrological infrastructure for mercury measurements in all environmental media, as required by current and future national and international legislation aimed at controlling mercury emissions and releases.
An overarching target of the JRP is to support the implementation and assessment of the Minamata Convention on mercury – the global and legally binding treaty aimed at reducing global mercury emissions – together with EC Directives and Member State objectives to reduce the presence of mercury in the environment.
The outcome of this JRP will provide end users with the underpinning infrastructure for producing primary calibration standards and traceable measurement results. Quantitative determination of Hg is of the utmost importance to a variety of applications, e.g. ambient air and water quality monitoring programmes as well as industrial sectors such as energy production and refineries. Traceable measurements will help to better understand human and environmental exposure to mercury, thereby working towards improving environmental sustainability and the health of the EU citizen, especially those more susceptible to mercury.
Traceable measurements with defensible uncertainties will also help to demonstrate trends in mercury concentrations, its speciation in different media, and its movement between environmental compartments.
This JRP will support mercury risk management and chemical policy.
Traceable measurements with lower uncertainties will help European industry meet the requirements of mercury abatement and emissions legislations with greater confidence and at low cost, resulting in huge overall savings across the EU, whilst making EU industry cleaner and more competitive globally.